Guesthouse Star Appartements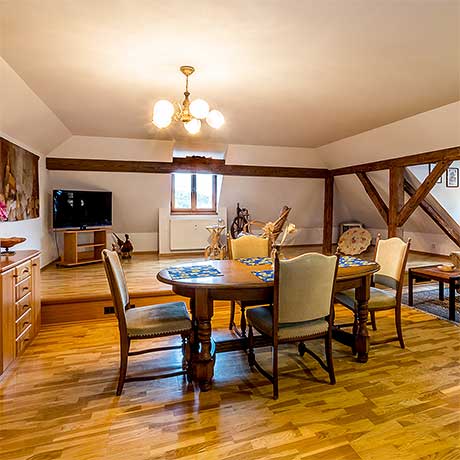 3 non-smoking apartments in Horní Street in the very center of Český Krumlov and directly next to the main square, and 200 meters from the Český Krumlov State Castle and Chateau.
Some rooms have a seating area where you can relax. The apartment is furnished with an electric kettle. For your comfort, you will find slippers and free toiletries in the bathroom. Free Wi-Fi is available in all areas of the apartments.
3 very spacious apartments (2 rooms + kitchen), located in a historic home from the 16th century. This is a very peaceful location. The house and your accommodations breathe the historical atmosphere together with the comfort and convenience of modern times. The friendly spirit of the Adalbert House will also oversee your pleasant stay.
Come and enjoy a pleasant holiday and endless well-being in our apartment, where you will be welcomed and where you'll be taken care of with kindness and care. Upon prior arrangement, you can order breakfast, either standard continental or above-standard based on your wishes and choice. If you prefer to prepare your own meals, there is a fully equipped kitchen.
We look forward to your visit and wish you the best possible stay.


Star Superior
Star Deluxe
Star Family